Welcome to the UniSAFE project
Making universities and research organisations safe from gender-based violence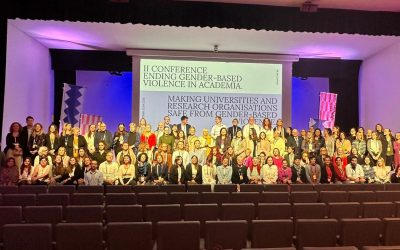 In a significant stride towards ending gender-based violence in academia, the Spanish Ministry of Universities held a conference in Bilbao on the 23rd and the 24rth of October, on the occasion of the Spanish Presidency of the Council of the European Union, with the...
read more
UniSAFE is an EU-funded project that aims to produce better knowledge on gender-based violence and sexual harassment (GBV) in research performing organisations (RPOs), and to translate this knowledge into operational tools for higher education, research organisations and policymakers.
Research and outreach activities targeting researchers, stakeholders and policymakers will be led across Europe for three years. The project will analyse the mechanisms of gender-based violence (GBV) – its social determinants, antecedents and consequences – at three different levels, using a holistic research model. This in-depth knowledge of existing problems, current and future priorities will result in an operational toolkit and recommendations to reduce GBV in the European academic and research area.
Project methodology
The UniSAFE project relies on a 7P model to address and combat violence, to assess the efficiency of modes of intervention and regulation and the institutional responses put into place to eradicate gender-based violence, including sexual harassment, in RPOs. At the core is the measure of the prevalence of gender-based violence, with the aim to understand the roles of university and research organisations in prevention, protection, prosecution, provision of services, supported by partnerships and policies.
Map and analyse existing knowledge on gender-based violence in research and performing organisations, and the national policies and legal frameworks to combat it
Collect quantitative evidence
Conduct a survey on the prevalence and impacts of gender-based violence among 45 universities and research and performing organisations in 15 EU States, and analyse the data.
Gather qualitative evidence
Investigate organisational responses and infrastructure in 15 EU States through in-depth case studies, interviews, and strategic mapping of research organisations' policies.
June 2021 – September 2022
Provide Insights and Tools
Develop concrete recommendations, a toolbox, and trainings to support universities and research organisations in developing policies and action plans.
Empower stakeholders to implement effective policies.

Subscribe to our newsletter !
Keep up to date with the latest project news, developments, and results.